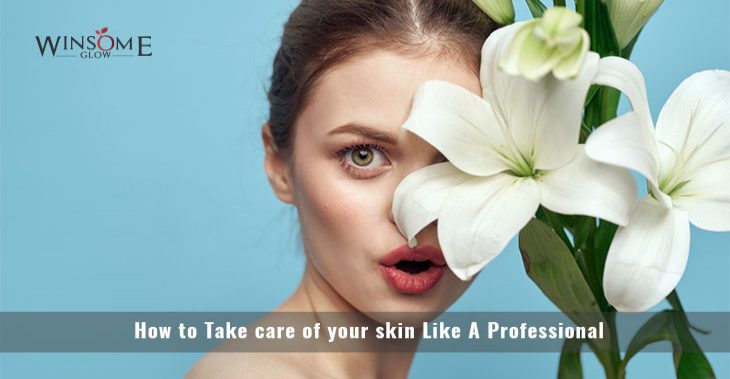 How to Take care of your skin Like A Professional
Taking good care of your skin is important because your skin shows what's going on inside your body. Skin care routine is the basic key point of taking good care of your skin. Having a good skin clearly means how healthy and hydrated your body is from the inside. Every woman wants to have a Glowing skin as well as skin whitening. We must let you know that it is possible with all the natural blessings of God. If we carry on having a good skin care routine with Natural skin care Products provided to us by God, we can be successful in having a Beautiful Glowing, perfect radiant skin.
Moreover, your skin doesn't need a miracle to perfect instead it needs commitment. Be committed in providing your skin the care it needs, the love it deserves. Those women you see everyday with glowing and brightening faces, are the ones who pamper themselves with proper skin care routines by using best skin care brands.
Proper Skin Care Routine adds:
Remove your makeup with a Makeup Remover:
Sleeping with makeup on is the most terrible thing you can do to your skin. And even if you have cleaned your face with a facewash and water, there can be a possibility that you have some makeup residue left in your skin pores. So, it is always advisable to remove your makeup with makeup remover, to make sure that your face is makeup free and ready to absorb the natural skin care products.
The whole day/week, your skin is exposed to bacteria, pollution, dirt and dead skin cells. Daily cleansing removes these impurities and gives the skin a fresh, clean, glowing skin and healthy look. Cleansing also helps to maintain clear skin. Excessive dirt on the skin can cause blockage.
It also cleanses your face by making it more glowing. Steam opens up your pores to help removes the dirt from your skin pores and also softens blackheads, making them easier to eliminate.
There are 2 methods to steam your face: You can take warm water in a bowl and steam your face or you can also use warm wet towel and gently rub it on your face.
Steaming can improve blood circulation. It also releases Acne-causing bacteria and cells.
Exfoliating your skin is an important part of skin care routine. It helps sweeping away the dead and dry skin. It also helps prevent Acne.
It helps other skincare products to penetrate deeper, which makes soft and glowing Skin. Exfoliation evens out the skin.
Apply any good Clay Mask or Sheet Mask:
Sheet Masks and Clay Masks allow your skin to look firm all day. They make your skin Glowing. Masks don't just improve your skin but they also provide relaxation. Masking helps all of your other skin care products work more efficiently. Masking also provides glowing skin.
Last but not the least "Moisturizing", we all know moisturizing makes your skin glowing. It protects your skin against environmental damage. It also helps to slow down the evaporation of your skin's moisture. Keeping your skin moisturized helps prevent aging.
Simple Skin Care Tips:
Get to know your Skin Type:
Knowing about your skin type is really important because it will let you know what type of products you should be using or applying on your skin. If you are not aware about your skin type then it can be a really big issue for your skin because if you have dry skin and you are using dry skin type facewash or skin products, it will make your skin become more dry and eventually your skin will crack. Vice Versa for the people who have Oily Skin.
Moreover, this is not the only way your skin will react oppositely or badly. This issue can bring out more Skin damages like Irritation or inflammation on the skin, breakouts, wrinkles and premature aging by using wrong products.
The most common types of skin are:
Oily,
Acne-prone,
Dry,
Sensitive and
Mature skin
You can also have more than 1 skin type like a person can have Oily and Dry skin for example in summers it can be Oily due to the hot/humid weather and in winters it can be dry because of dehydration and cold weather.
Maintaining a healthy diet and Hydrating yourself:
Water helps you to have Glowing skin. It also helps to add Skin lightening by making your skin even toned. Give your skin bonus points by adding fruits and vegetables in your diet.
Make sure to never touch your pimples:
We do a lot of physical work in our everyday routine by which we get germs or dirt on our hands. And in this situation if we touch pimples with our dirty hands, it is possible that pimples can react more by those germs. This way your acne will increase and it will be irritating as well.
Avoid direct sun exposure because it can give you tan. Sunburns an be really bad for your skin. It doesn't only burn your skin but it also makes your skin irritating.
Keep your makeup Brushes Clean:
Makeup is something we all do and love to do it. Nobody is going to ask you to not use makeup because it is impossible. But we need to take care of a few things which includes cleaning your makeup tools regularly. If you don't do this, your skin can get damaged in many ways.
Thank you for reading this Blog. We hope you liked it.