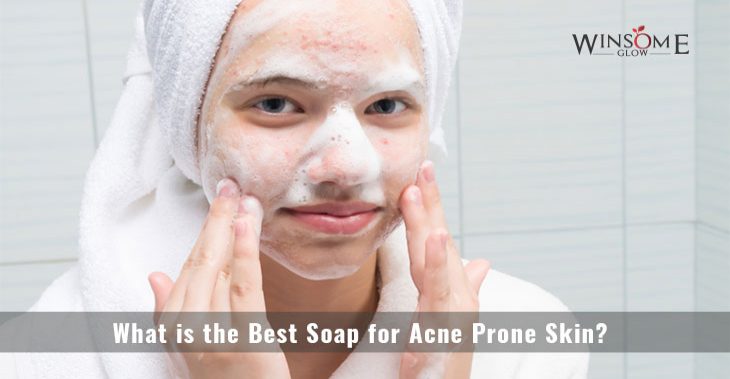 What is the Best Soap for Acne Prone Skin?
Why are there even more breakouts triggered by so many acne items which are marked as suitable for' sensitive skin'?
One of the essential moves to keep your skin healthy, sometimes neglected, is to wash your face with the right skin type product. The problem skin survives by its name–an issue that you can effectively fight on through experience of different acne soaps.
The most common soaps are transparent and scented and render the slightly inflamed skin worse. A common error you create is the use of a product that includes several artificial ingredients and does not allow your skin to recover the nutrients and vitamins.
Advertisement of celebrities-backed supporters convinces you why you should buy some heavily perfumed quality acne soap with unpronounced ingredients. You will still purchase it because of its convenience and fake durability, but other options exist that you mostly ignore.
Winsome Glow Acne Soap
Winsome Glow best acne soap is a bar medicated with its gentle formula in salicylic acid that effectively treats the face and body acne. When you use it, your skin will feel cool, clean, and comfortable. Winsome Glow acne soap is known as a sensitive skin expert, unlike other major brands.
This soap does not have added dyes or harsh scents, making the skin clear and healthy. This product is soft enough for daily use and is suitable for every type of skin. It is also not heavy on the pocket and easy to find.
Prefer Always Acne Soap with Salicylic Acid
Using salicylic acid, you can reduce the oil of your face and release the blackheads and eliminate harmful toxins from your pores. This can also serve to remove pigment of dark marks that have been left behind by acne break-outs. Salicylic acid also serves as reducing redness and inflammation on skin.
Hard Soap Bar
As it comes with a bar, the plastic pump and bottle from liquid soaps eliminate the need for unnecessary packaging. Another advantage of a solid product is that there will be less waste and a product that will last longer. This soap is pure and does not need any preservatives.
Main Features
Usable for the face and the body
Friendly and affordable
Developed by skincare specialists.
How to Select Best Soap for Acne
In recent years, numerous organic skin care lines with natural ingredient acne soap promisingly nourished skin, so what do you choose? So, what is the best skin care brand? Making an educated choice is the first thing you can feel confident about to recover beautiful skin. You will reflect glowing towards a refreshed skin by knowing how acne soap works and the product that is right for you.
Not only will the skin clean with the correct soap for acne, it will boost your overall skin health and environmental well-being too.
If your skin gets infected already and breaks out, it is important to consider the products that will help you. Acne soaps are available in various types, some for the dry skin, oily skin or mixed skin. There are treatments for ongoing outbreaks, whereas some are targeted at removing dark marks or scarring of previous outbreaks.
The perfect purchase accommodates the demands of your skin while also ensuring you are not out of budget. A simple search on the internet will tell you whether a soap is good to you. If you want something based on charcoal, something based on glycerin or anything that you can determine.
It is also important to read through user reviews because you can see the unbiased opinions of the real people who actually use and enjoyed the product. Those who struggle to do their research are more prone to have breakouts or skin problems. Beauty in your own skin is about being confident. It's about understanding who you are and accept that.
Conclusion
The first step is to assess what kind of skin; a material that performs well for you can be comfortably chosen. Keep your face dry as you can during your daily activities. Avoid touching your face with hands directly.
Acne break outs can activate the oils that accumulate on your fingertips. There are many ingredients that are improved by curing nutrients varying from charcoal to glycerin to salicylic acid. Learning these ingredients is a key part of your selection of acne soap.
If you do not suffer frequent breakouts, but the scarring and damage caused by the past have also added to your skin clarity. The product range is different because you have a different skin. It is important to remember.